Therser UKs construction and installation of a One Car, Downdraught Gas fired Shuttle Kiln with gantry door for technical ceramics.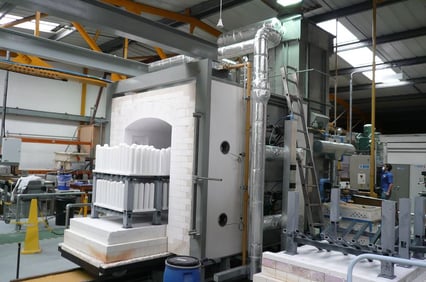 This high temperature kiln has a combustion system that is modulating in Ratio Air/Fuel with pre heated combustion.
It has one afterburner and four high temperature burners (Type Eclipse TJSR) complete with spark ignition, flame failure controls and all relevant shutoff valves/flow control valves on both the gas and airlines.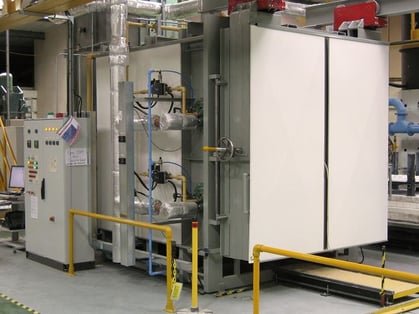 There are also four independent control zones with excess air, stoichiometric and pulse firing modes complete with SCADA system.
What is SCADA? Supervisory control and data acquisition (SCADA) is a system of software and hardware elements that allows industrial organizations to: Control industrial processes locally or at remote locations Directly interact with devices such as sensors, valves, pumps, motors, and more through human-machine interface (HMI) software
The kiln is fueled by natural gas and the atmosphere is oxidising.

The kiln door is fastened using wheel type door clamps.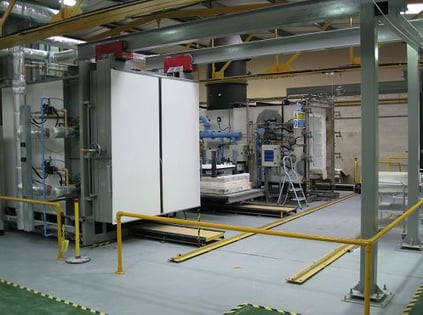 Some other useful specifications and dimensions...

Nominal capacity – 1 Cubic Meter nominal
Setting dimensions – 1000 mm Wide, 1000mm High, 1000 mm Long
Firing temperature – 1600°c
Max design temperature – 1650°c
Temperature profile range – +/-1°C at soak
Nominal kiln external dimensions - 2500mm Wide, Approx 2500mm High, 3000mm Long
For further details please contact sales@therseruk.com or call 01782 824453 to speak with a sales advisor directly.