We are thrilled to welcome Rio to our team as our new Quality Assurance (QA) Manager! Your skills and experience make you an excellent fit for this role, and we look forward to seeing the impact you will make to Therser UK.
As a QA specialist, you will play a vital role in ensuring that our products and services meet the highest standards of quality. We value your attention to detail, problem-solving abilities, and dedication to providing the best possible customer experience.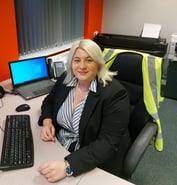 We understand that starting a new job can be a little overwhelming, but we assure you that we are here to support you every step of the way. Our team is a collaborative and supportive environment, and we encourage you to ask questions and share your ideas.
We are excited to see you bring your unique perspective and ideas to the team, and we look forward to working with you. Welcome aboard!
For any sales enquiry please call 01782 824453 or email us at sales@therseruk.com