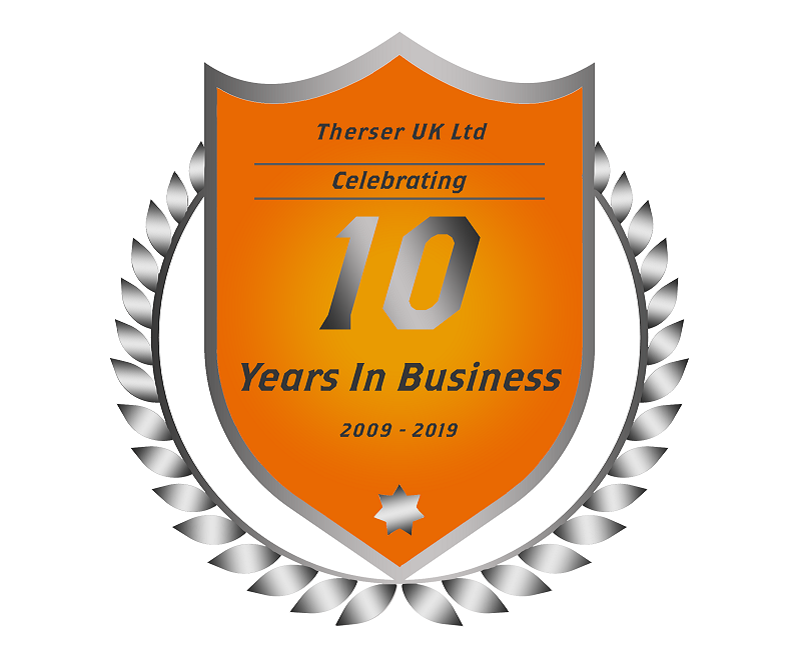 Tuesday 19th March 2019 was a special day for us. Apart from being officially the last day of winter, it was also the day we celebrated 10 years in business. A lot changes in 10 years and it's good to take stock and think about how far we've come and what our team have achieved in this time.
The first thanks, of course, go to our customers. Some of our core clients in the tableware and ceramics sector have been with us almost since day one, and have allowed Therser to grow from our first intrepid team of four engineers to over 35 today.
We've diversified a lot in this time as well, largely thanks to the efforts of our in-house research and development department. Our unique Multi-mode Combustion (MMC) system gives our products greater flexibility than many furnaces, letting us serve customers in the heavy clay industry, technical ceramics and aerospace sectors as well as our initial market. We're proud of the tireless efforts of the team who developed the MMC system and we are always working to change and improve what we can offer our customers.
More than anything else, it is our diverse team of engineers who are responsible for our achievements as a business, whether working on design, manufacturing, technical sales, relocations, financial, or 101 other tasks. Since 2009 we've become the UK's largest kiln building company, the first manufacturer of roller kilns in the UK, and have recently diversified into emissions control systems.
As a team we are passionate about the work we do; helping our customers lower costs, diversify their markets and boost productivity – and also doing our bit to help the environment. In recent years we have been involved with several carbon capture projects, helping businesses reduce emissions and lower their carbon footprint. We believe the carbon capture process has the potential to make a real difference in making manufacturing more sustainable, and we're currently working with a partner company to develop practical and cost-effective solutions in this field.
Some of our engineers have been with us for many years now and we are aware they won't want to keep working forever! Part of running a sustainable business is keeping an eye on the future, and to this end we now run an apprenticeship scheme to train and develop the next generation of young engineers. With their experience, talent and new perspectives we hope the company can carry on for another 10, 20, 30 or 40 years.
Here's to the future, and thank you.