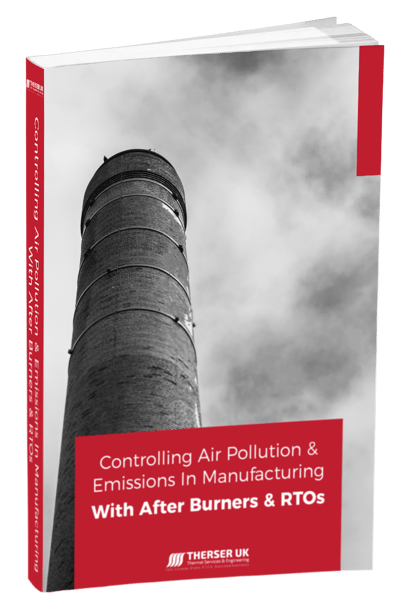 We are delighted to announce the publication of our brand-new e-book: Controlling Air Pollution & Emissions in Manufacturing With After Burners & RTO's.
The purpose of the guide is to help businesses manage emissions from furnaces, kilns and process equipment, reduce air pollution and comply with UK and European clean air regulations.
There are two aspects to the guide:
1) Technology
We introduce the technical side of air pollution control, explaining the leading technologies used to reduce emissions and achieve cleaner air quality. Chief among these are RTO's, or Regenerative Thermal Oxidisers. An RTO uses 2 to 5 heating chambers to achieve the cleanest possible exhaust output for your facility, exceeding all the compliance requirements from current legislation. Not only this; but RTO's also actively recycle heat, lowering your operational costs at the same time as expanding your sustainability profile. The latest generation of RTO's can recover 95% or more of internal heat, allowing completely fuel free operation in some circumstances.
In the e-book we explain how our RTO's work and their value as business assets. Alongside RTO's we also include sections on afterburners – which are fixed directly to exhaust chimneys – and a range of other air purification technologies.
2) Legislation & Compliance
The manufacturing industry – across all sectors – has made great strides forward in improving air quality over the past decade. This is reflected in the proactive approach many businesses have taken to clean air regulations coming from UK and EU authorities. In our e-book we discuss the requirements for compliance, how air quality is monitored, how to manage environmental inspections and how to go beyond compliance in your facility.
Find Out More!
Please click here to download a FREE copy of our e-book and find out more. If you are concerned about emissions at your facility and would like to discuss ways you can improve your environmental profile, please get in touch with one of our consultants today. Call us on (+44) 1782 824453, or send us an email through our online contact form.