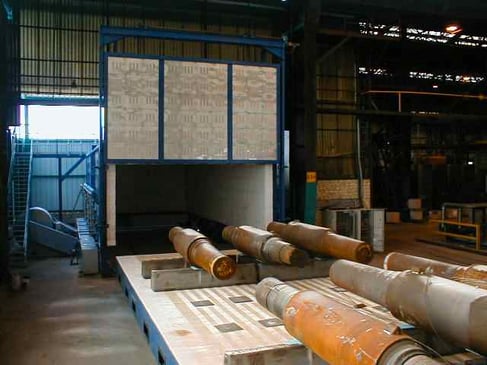 When you purchase a new gas furnace you entrust your productivity and the profitability of your business to a furnace company. This is a big leap of faith. By taking on a partnership with a manufacturer you trust them to deliver a high-quality product within budget and on schedule.

The best partnerships are built on transparency, expertise and mutual respect. This comes from a manufacturer being able to walk the walk, as well as talk the talk. We have therefore put together a list of simple do's and don'ts that you can refer to when shopping around for a manufacturer.
Of course, we would like you to consider Therser when planning your new industrial kiln investment. We are a well-established manufacturing and maintenance company with extensive experience and a commitment to high engineering standards. If you would like to know more, please give us a call on 01782 824453.
DON'T Purchase Without Understanding The Specs You Require.
One of the biggest mistakes companies make is to change the use of a kiln away from its original specs. This is usually to increase production volumes, or to adjust the temperature profile to accommodate a different type of product. The fault lies in not planning strategically for what you will need the furnace for. A good manufacturer will be able to help you with this. Our rule of thumb is to establish specs, not for where your business is today, but for where you plan it to be tomorrow. Some furnace designs are responsive to the changing needs of your business and allow varying firing cycles, so speak to us to see if this is a possibility.
DO Choose A Manufacturer With Extensive Technical Knowledge.
An experienced gas furnace manufacturer is an absolute must. A professional furnace manufacturing company, such as Therser, will offer consultancy and advice as part of the service. This helps you get your decision right first time and avoids you being stuck with a kiln that doesn't meet your requirements 12 to 24 months down the line. Our technical specialists will work within your budget to build you the most powerful and efficient machine possible, without cutting corners on quality.
DON'T Skimp On Engineering Specs To Reduce Your Budget.
To reduce your budget, some manufacturers will suggest cutting out some of your product specs in order to sell you a cheaper machine. Although they may be trying to help, it is often best not to skimp on these specs. The challenge for a good manufacturer is to accommodate all the essential features you need within a realistic budget – and to let you know what may not be possible. You can then make an informed choice. A manufacturer who thinks creatively to find new solutions demonstrates a commitment to genuine customer service. Be wary of manufacturers who seem keen to encourage a cost-cutting spree.
DO Look For Excellent After Sales Support.
Kilns and furnaces need regular, ongoing maintenance to retain manufacturing capacity and avoid common failures. Seek out a manufacturer, such as ourselves, that offers planned preventative maintenance services, abundant spare parts and technical telephone support whenever you need it.
DO Seek Out Independent Reviews And Customer Testimonials.
The best manufacturers tend to be the ones that are established in the industry and have a professional reputation built on results. Seek out independent reviews and customer testimonials from similar businesses to your own, and ask for personal references if necessary. A quality manufacturer should be only too pleased for you to speak with their previous customers to verify the level of their service.
How To Choose The Best Furnace Manufacturing Company.
Investing in a gas furnace for your business is a big purchase decision, so it is good to be forearmed with the right knowledge to get the best deal. To help you make the right choice, take a look at our Industrial Kiln and Furnace Buyers Guide. You can download a copy by clicking here. Our new, free e-book was written with input from our kiln designers and engineers, and covers topics such as types of furnace, efficient design features, and planned, preventative maintenance (PPM).