Therser UK Ltd have recently completed the construction and installation of an Electric Heated Shuttle kiln with Kiln car and in-line tracking a normal capacity of 1.5 m³ Nominal Size for firing to 1250°C (maximum rating 1,300°C).
Overview
The kiln has a pre-fabricated kiln frame complete with integral rear mounted element connection chamber. The kiln structure is of a twin design, meaning lower heat losses and a comfortable working environment. Externally the kiln is clad with coloured powder-coated steel plates and stainless steel cladding on the afterburner and the front face of the kiln, which create a natural cooling cavity between the inner and outer skins which will give an excellent "visual finish".
The kiln also has:
A vertical operated door by a motorised cross shaft complete with chain sprockets and guide wheels on adjustable back plates on the four corners of the door, running inside the vertical support channel.
Free standing push button control panel.
Car haulage moving system operated by a rack on the kiln car with a motorised spur gear driven by a floor mounted drive motor with a Hand held push button control (No guarding supplied as per customers request).
Low thermal mass ceramic fibre lining with brick piers for element support trays.
Roof mounted motorised automatic exhaust/cooling damper system.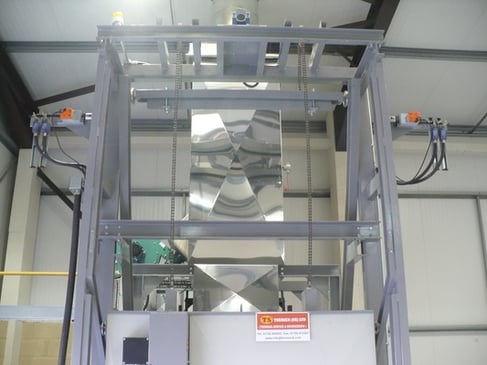 The heating and energy control system comprises of:
A set of spiral wound heating elements fitted to the side walls, and rear wall door.
A set of high strength element support trays.
Three Eurotherm High reliability zero crossover burst firing Thyristor units (3 zone control).
The kiln control and electrical system comprises of an electrical panel fully assembled and containing all necessary instruments and controls, generally including:-
Programmable Temperature controller (zone # 1) – Type = Eurotherm 2704.
Main Over Temperature Controllers – Type = Eurotherm 3216
Trapped Key Electromechanical Safety Interlock.
Set of thermocouples and compensation cables.
Set of push buttons, indicators and controls.
Set of electrical wiring materials for the installation of the kiln and equipment (assumes the control panel is within 3.0 m of the kiln).
It also has an exhaust system, comprising:
Pre-fabricated exhaust canopy.
Pre-fabricated 6.0 m long exhaust stack (chimney).
Gas Fired Exhaust After Burner complete.