One functional benefit is that a high quality ceramic fibre filling or lining improves the uniformity of heat distribution inside of our kilns and furnaces. A kiln that doesn't have a ceramic fibre filling may suffer from a uneven distribution of heat and remain hotter in some areas than in others, especially as the bricks starts to age.
The installation of a ultramodern Ceramic Fibre Lining offers lower thermal mass of the kiln structure which reduces energy consumption, more invariant functional temperatures across your firing cycles, product waste is reduced, quality improves and firing volumes can be vastly increased.
Therser UK produces its own Ultra modern Ceramic Fibre material . This has been ground breaking in the way we can cut out third party middle man, helping our customers save money and more importantly time! This is because we manufacturer this in-house on- site. Just another innovative way that Therser UK is driving forward the heat treatment industry.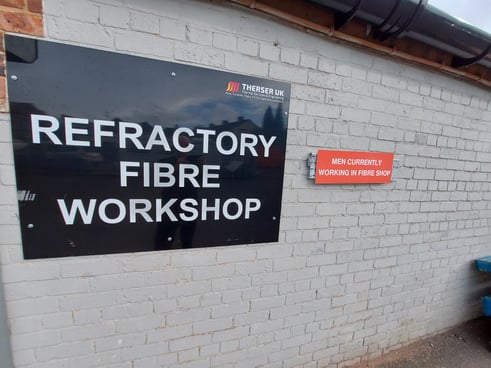 Operational Benefits
As well as helping to insulate an industrial kiln from heat losses, a high-quality ceramic fibre lining improves the uniformity of heat distribution inside. Without one, a kiln might remain hotter in some places than others, especially as its refractory brickwork ages. As such, you might find a lack of uniformity from products processed within such a kiln from batch to batch, or even within batches.
Follow this link to our website. Here we go into a bit more detail and you can look our previous works. https://www.therseruk.com/ceramic-fibre-and-brickwork-refractory
You can also download our Refectory and Fibre Brochure.
It doesn't matter if your project is small or on a huge scale we can help. Our engineers can also retrofit existing kilns with new fibre linings to improve their efficiency and productivity. To discuss your requirements please call 01782 824453, or email sales@therseruk.com