Here's a glimpse into the diverse offerings that Therser Wellman provides:
Alloy Fabrications for Heat Treatment Plant: Therser Wellman specializes in crafting high-quality alloy fabrications essential for heat treatment plants. This includes retorts, muffles, baskets, radiant tubes, elements, chains, fans, and more. These components are crucial for maintaining optimal performance and efficiency in industrial furnaces.
Repair of Nickel-Chrome Furnace Components: Over time, furnace components, especially those made of nickel-chrome, may require maintenance and repair. Therser Wellman's expertise in this area ensures that your furnace components are brought back to optimal working condition, reducing downtime and increasing productivity.
Refractory Services: Refractory materials are essential for withstanding high temperatures and ensuring the longevity of industrial furnaces. Therser Wellman offers refractory services, including installation and maintenance, to keep your furnaces operating at peak performance.
Catalyst Services: Catalysts play a critical role in various industrial processes. Therser Wellman offers solutions for catalyst handling and maintenance, ensuring the efficient operation of your processes.
Cast and Ceramic Parts: Therser Wellman provides a wide range of cast and ceramic parts necessary for industrial furnaces. These parts are designed for durability and optimal performance under extreme conditions.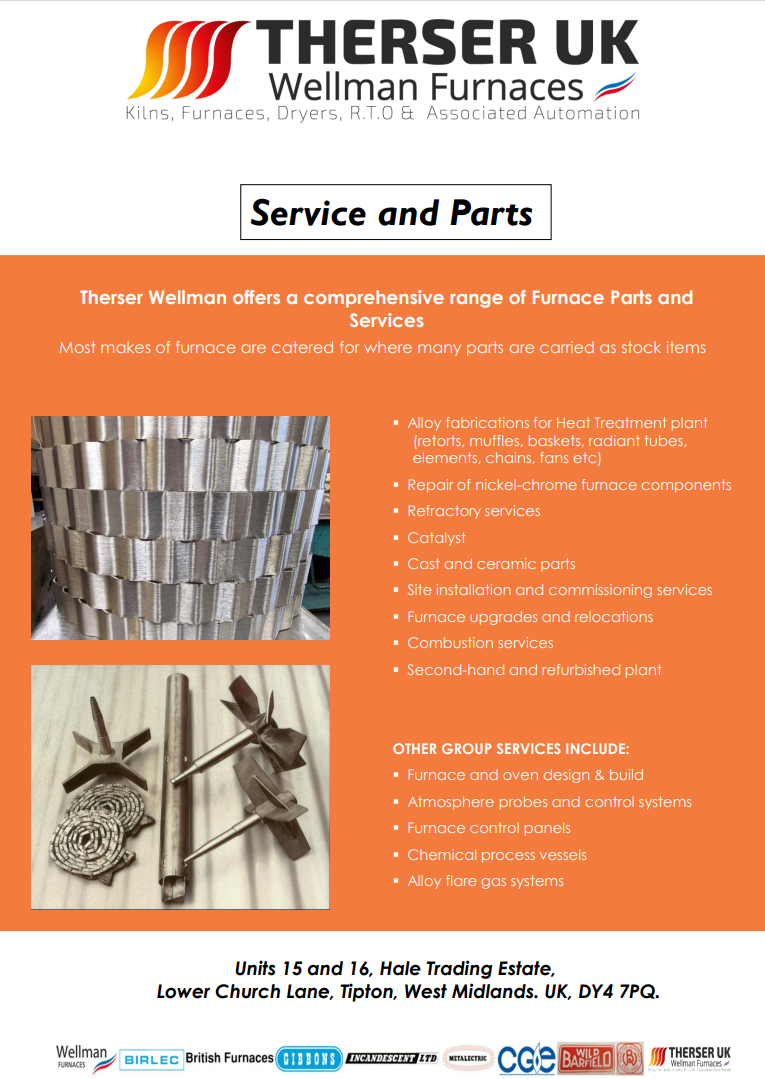 Site Installation and Commissioning Services: Therser Wellman offers site installation and commissioning services, ensuring that your equipment is set up correctly and operates safely from day one.
Furnace Upgrades and Relocations: As industries evolve, furnace systems may require upgrades or even relocations. Therser Wellman has the expertise to handle these complex tasks, ensuring that your furnace systems meet current industry standards and regulations.
Combustion Services: Efficient combustion is essential for the performance and energy efficiency of industrial furnaces. Therser Wellman offers combustion services to optimize your furnace's combustion process.
Other Group Services: In addition to furnace parts and services, Therser Wellman provides a range of other services, including furnace and oven design and build, atmosphere probes and control systems, furnace control panels, chemical process vessels, and alloy flare gas systems.
Please contact our sales team today on 44 (0)1782 824453 or drop us an email
Head Office -
Therser (UK) Ltd
Walley Street,
Burslem,
Stoke on Trent,
Staffordshire,
ST6 2AH, UK