Joanne, an inspiring individual, has taken up a remarkable challenge to make a difference in the fight against cancer. With great determination and a heartfelt purpose, she has committed herself to skipping 100 steps a day. Not only does she hope to raise as much money as possible for Cancer Research, but she also seeks to improve her own fitness along the way.
By skipping 100 steps each day, Joanne is not only challenging herself physically but also inspiring others to support her in her mission. Cancer Research UK is at the forefront of groundbreaking research and advancements in cancer treatment. Every donation made to Joanne's fundraising page will contribute to the vital work being done to prevent, diagnose, and treat cancer.
Your support is crucial in helping Cancer Research UK continue their life-saving work. Together, we can make a difference and drive progress even faster. Please consider donating to Joanne's fundraising page and join us in the fight against cancer.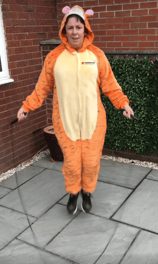 To show your support and contribute to Joanne's goal, please visit her Just Giving page by following this link Giving Page Every donation, no matter how big or small, will make a meaningful impact and bring us one step closer to a world free from the grip of cancer.